Athlete Profile: Mooney & field hockey move closer to national championship
It is soon to be the end of the road for many fall student-athletes all over the country. This is the case as well for Saint Anselm College senior field hockey captain Rose Mooney.
Mooney told the Crier, "It's (been) tough on my parents."  Her mom provided a stark reminder:  "You know you have less than 10 games left in your career."  Hard for Rose to imagine but a finish does lie ahead.
The senior couldn't have scripted a better finish for her collegiate field hockey journey.  The midfielder from North Attleborough, Mass. feels this is the best team she has ever been a part of and the results show this. The team is 12-2 overall and has beaten West Chester, Adelphi, Stonehill, and American International College along the way. These schools were all ranked inside the top ten nationally at the time Saint A's played them.
The resiliency to adversity has been a big key to the Lady Hawks' success this season. The team lost its opener to Kutztown and then reeled off eight victories in a row. They then dropped a 2-1 result against, at the time, the number one team in all of division 2 field hockey, LIU Post University. As a response Saint A's has put together another streak of wins which currently stands at four.
Mooney had high praise for her team:  "I have really been waiting to be on a team like this.  I think this is the first year everyone is on the same page. Everyone wants the same thing; we want to go all the way. It's not like pulling teeth to make sacrifices; it is just something everyone wants to do. I am honored to be on a team like this, especially to be a senior. It seems like the best case scenario."
Mooney is double majoring in environmental studies and Spanish with a minor in public policy.  The ideal model of a student-athlete, Mooney has made the Dean's List all six semesters she has been at Saint A's.
Besides field hockey, Mooney enjoys running.  In fact, she ran a half-marathon this summer to stay in shape. When she does eventually sit down and relax, Mooney also enjoys reading.
The balance of a defensive-minded senior squad, as well as a junior class that places a premium on offense, has created a strong team for Saint A's field hockey.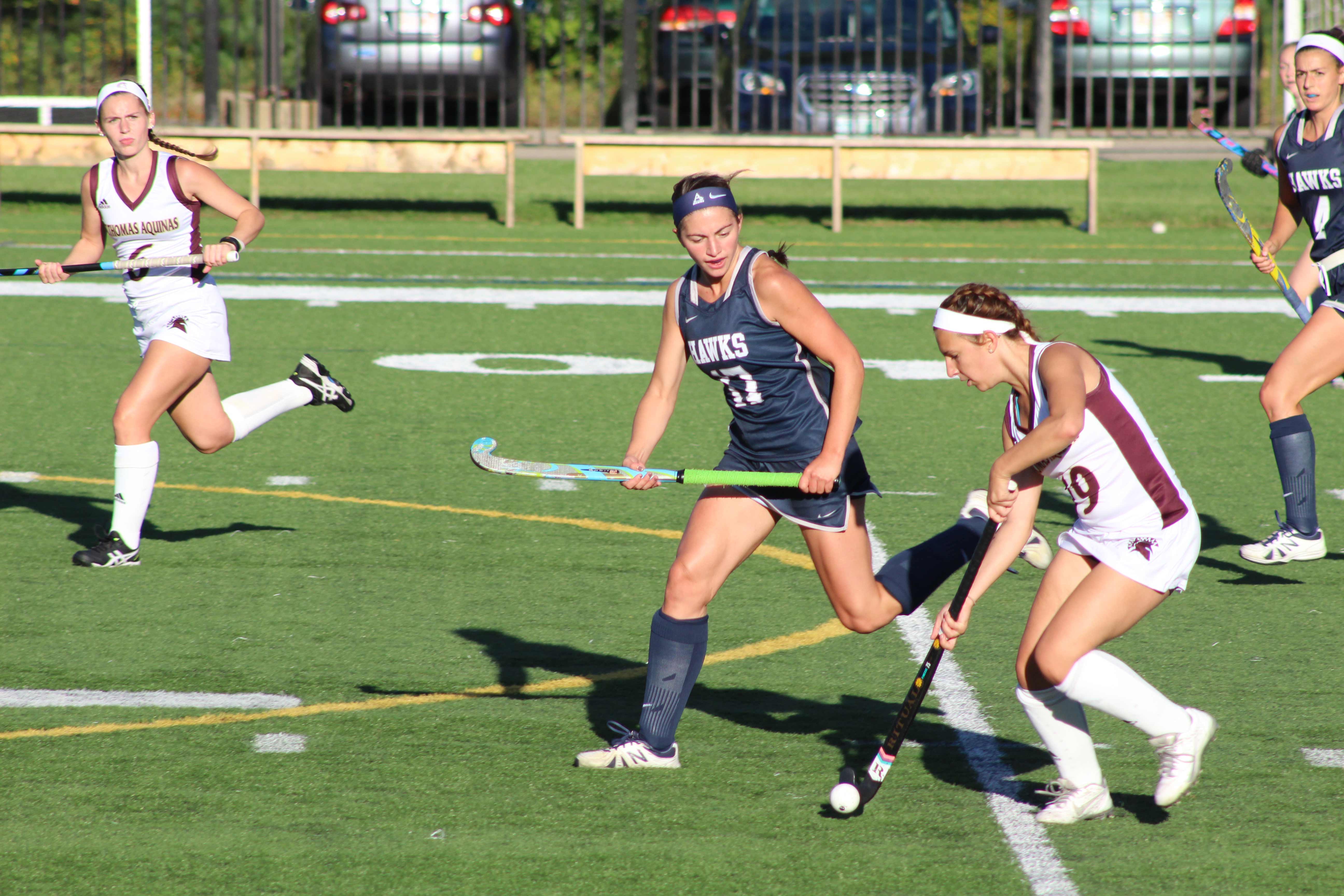 Mooney went on to say how the freshmen have come ready to play and knew how to execute the strength and conditioning program when they got here.  First-year player Hannah Friend leads the team in scoring with seven goals and has been named NE-10 Rookie of the Week twice so far this season.
"You don't expect them to make that much of difference, but when they do, it is an added bonus," Mooney says.
One of Mooney's favorite memories of her collegiate career was the win at LIU Post in overtime her sophomore year. It was at a time when the program wasn't taken as seriously, and showed the players that if they focused they could be one of the best teams in the country. She will also always cherish the overnights in New York.
Coach Carolyn Robitaille, now in her fifth season at the helm, has been an integral part in turning this program into the successful team it has become at Saint A's.
"I always joke to myself that her day has 30 hours in it, and mine only has 24," Mooney says.  "She is in her office whenever you need her. When you talk about sacrifices, she has really put everything into this team. She definitely goes under the radar. She is the most dedicated coach I have ever had in any sport at any age."
The players have been cheering the date, "Nov. 20," ever since the spring.  In response, Coach Robitaille has already secured the tickets for the national championship game on that date at Stonehill.  That means the team will be there no matter what, whether they are on the field or in the stands.  What a storybook ending for Rose Mooney and the entire field hockey organization.