Football falls to 0-7, plays Pace University Oct. 22 during Family Weekend
Former Division I assistant coach at Syracuse University Joe Adam has stressed the three pillars of attitude, effort and enthusiasm as part of his new-look plan since he arrived on the Hilltop.
He had this to say about how his team has done so far, "I think our attitude has been great, it's very hard when you are not finding the success you are looking for to come out and practice. It speaks to the character of our team. Our effort has been good, not stellar, not to the expectations that we have set here as a coaching staff. And we need more enthusiasm; it's hard to manufacture when you are not succeeding, but it's part of the process."
Once again the Saint Anselm football team failed to score first and once again they lost the game as a result.  The number 18 ranked team in Division 2 football Assumption College defeated Saint A's 39-14 on Friday Oct. 14 in Worcester, Mass.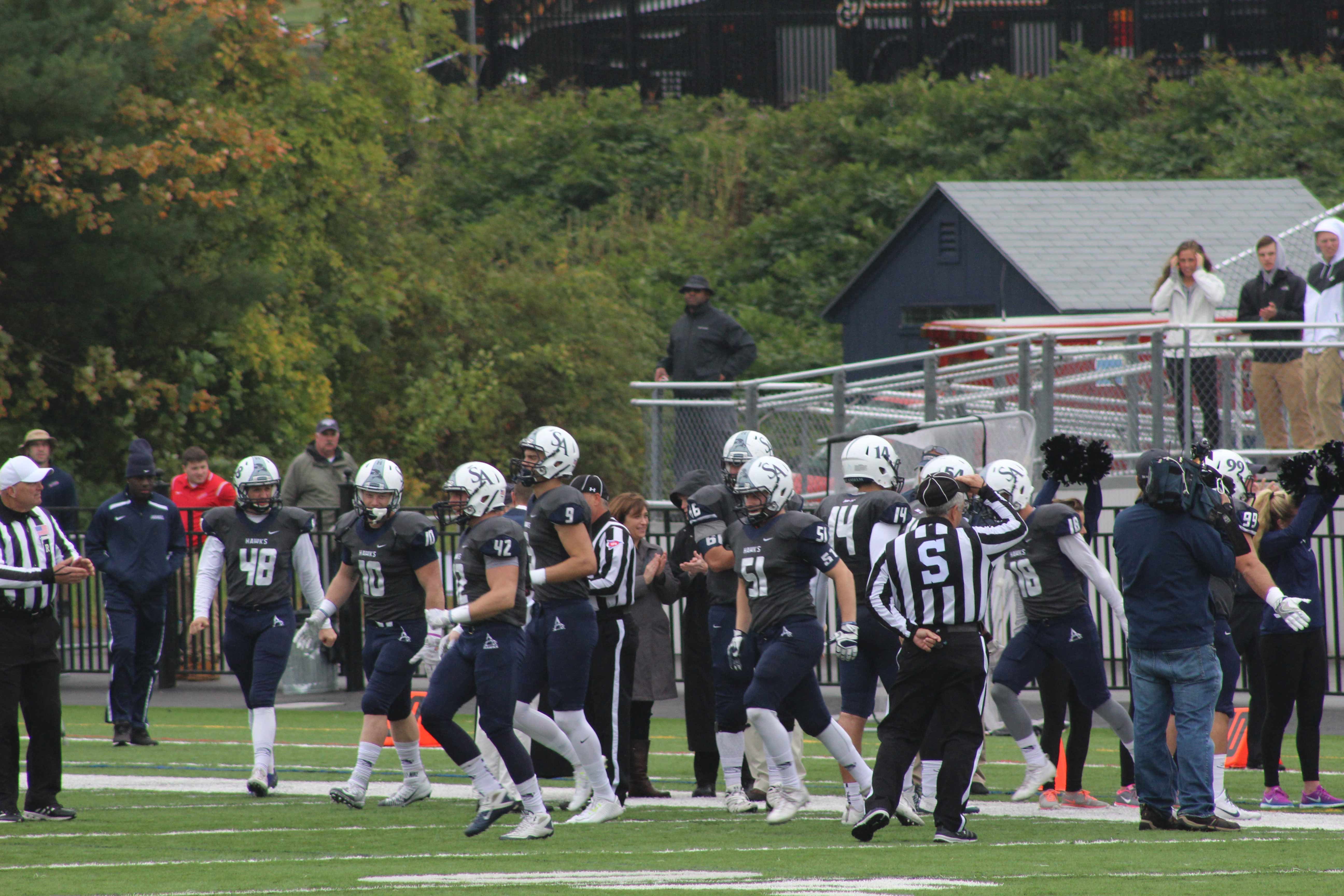 The Greyhounds jumped out to a 20-0 lead at the end of the first quarter. Junior quarterback Mark Monks and his fellow junior classmate wide receiver Ashton Grant hooked up for both  touchdowns.
Saint A's responded in the second frame when Joe Hayman capped off a fast, 6 play drive with a 27 yard rush touchdown to make the contest 20-7.
But, less than a minute later Assumption scored again through the air on a 68 yard pass with only 38 seconds left in the opening half. The game was starting to get out of hand.
The Greyhounds added a pair of field goals from Cole Tracy to increase their advantage. The scoreboard showed 33-7 Assumption going into the locker room.
The second half saw very little scoring for both teams. Cole Tracy was successful on two more field goal tries giving him 6 for 7 attempts for the night. At the end of the three quarters Assumption led 39-7 over Saint A's.
The Hawks would score their only points of the second half when, with about seven minutes to go in the game, Hayman scampered from four yards out. This made the Northeast 10 contest 39-14. This is how the final score looked as Assumption dominated Saint A's from the get-go.
Adam on the biggest disappointment so far this season: "From a team standpoint the only stats that we look at are touchdowns and turnovers and we have not been very good in those statistics. We have not paid attention to the touchdowns and turnovers. We have turned the ball over way too much and we have not created any turnovers.  Every great team I have been a part of, even championship teams that has been the number one piece of everything that we do as a team."
Joe Hayman and wide receiver Kyle Hill were the two bright spots for Saint A's in the setback. Hayman had both scores in the game and Hill caught 9 passes for 121 yards.  The squad fell to 0-7 on the 2016 campaign.
Coach Adam said on what he wants to see the rest of the season, "I want to see improvement. I want to see an understanding of our schematic; I want to see a tighter team. I want to see the three pillars we talk about every day in our program start to come in fruition. This is a now experience, not next year or the year after."
The Hawks are back in action Saturday Oct. 22 at Grappone Stadium when they take on Pace University in a battle of NE-10 teams looking for their first wins of the season. The game will take place during Family Weekend.