Athlete Profile: Olivia Connly '17, anchor of women's lacrosse
For this installment of the Athlete Profile, The Crier sat down with Olivia Connly, the senior captain for the women's lacrosse team. The Business major from Sturbridge, MA has spent the past four years continuing a family tradition of athletic excellence. Through her strong leadership and positive personality, she has left an indelible mark on Saint Anselm athletics.
Although she has had four coaches across four seasons, Connly has remained an anchor for the Hawks. She has consistently ranked among the top defensive players each season, totaling a career total of 60 groundballs and 35 caused turnovers (10th on the all-time record list). The team will look for Connly to once again lock down opponents defensively this season, especially after losing 10 seniors to graduation.
Athletic prowess certainly runs in the Connly family. Olivia and her mother Linda (Pavone) Connly '87, who played varsity basketball at Saint Anselm College, are the first mother/daughter student-athlete captain combo in Hawks history. The two joined each other on stage to speak at the February 11 celebration of 40 Years of Women's Athletics.
"It's the team, it's the family, and the relationships that you created with your teammates that will last forever," Linda Connly stated at the conference. Linda Connly, who led the Hawks to two NE10 Tournament appearances and an ECAC Championship win in 1986, was elected into the Saint Anselm Hall of Fame in 1993 for her contributions to the Hawks and women's athletics.
To Olivia, it's "really nice to be following in her footsteps and leading in athletics." She says that although she didn't plan on following her parents to Saint Anselm College, she fell in love with the campus after her mother convinced her to visit.
Connly has racked up her own fair share of accolades while playing lacrosse for the Hawks. The senior has made Saint Anselm's Dean's List and the NE10 Commissioner's Honor Roll four times each, while earning positions on the All-Conference Second Team and All-Rookie Team in her first year. She also earned a place on the NE10 All-Conference Third Team last season.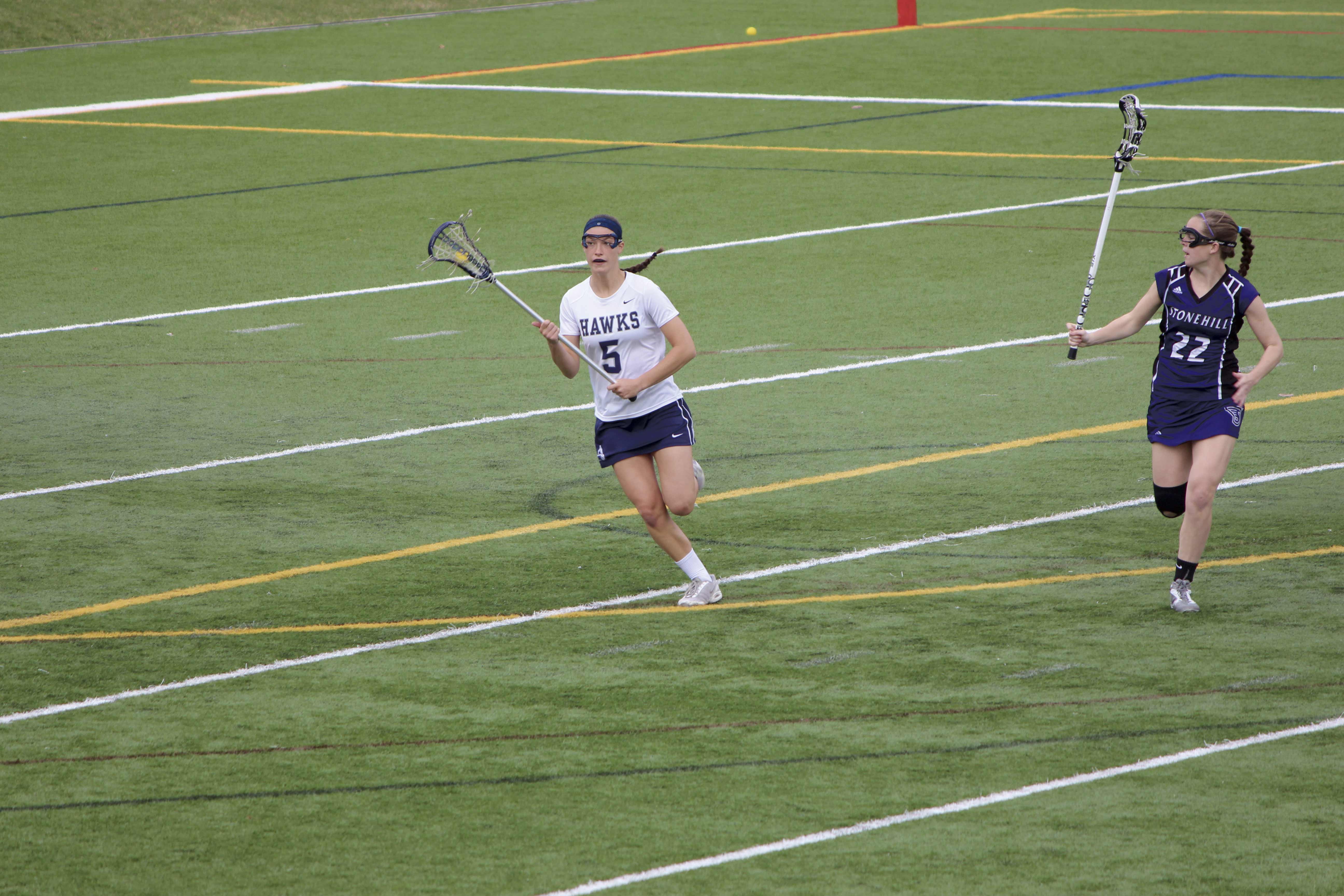 Connly is also a captain for her team. One of her responsibilities as a senior leader was to continue the team tradition of running a Make-A-Wish Foundation fundraiser. Although she has participated in the event in previous seasons, this was her first year running the program. The goal of the fundraiser is to send out Halloween baskets filled with candy.
"Our team creates a huge assembly line to create individual bags," she explains. "It's good team bonding, and free labor," she added with a laugh.
In addition to her responsibilities as a team captain, Connly is also an officer for the Student Advisory Committee (SAC). As the secretary, she helps coordinate different "games of the week," an effort to increase attention and fan support for Hawks athletic competitions. She also "votes on new NCAA legislation and works on branding for athletes around school."
"We try to get all SAC representatives and their teams to go to different games and support one another," she explains. By encouraging teams to support one another throughout their seasons, SAC and Connly hope to increase cohesion and camaraderie within the athletics program.
After graduation, Olivia Connly has already secured employment as an "inside sales representative at Dell EMC." Coincidentally, Connly's mother also works for Dell EMC. The senior says that it will "be nice" to continue emulating her mother even after graduation.
"We're pretty much the same person," she jokes.