Men's lacrosse suffers back to back losses to close out the season
Before the game, seniors Brennan Quackenbush, James Olsen, Alex Pacitti, Matt Johnson, Chris McCormack, Dylan Ryan, Mark Vitello and student-coach Colin Swanson were honored for their work during their time on the hilltop.
Dylan Ryan spoke with the Crier after the game about his time on the team. He said, "I couldn't have asked for a better experience. We have done some amazing things this season, but we have a lot more to accomplish."
Vitello opened up the scoring for the Hawks off an assist from Pacitti, but Merrimack scored four unanswered goals to take a 4-1 lead with 7:48 remaining in the first quarter.
Olsen scored an unassisted goal to stop the run, but Merrimack would score one last time in the first to give them a 5-2 advantage. Vitello would start off the scoring for the Hawks again to start the second to bring the Hawks to within two. However, Merrimack scored three out of four of the next to head into the break with an 8-4 lead.
Merrimack came out of halftime looking like solid candidates for their #1 ranking. The Warriors rattled off two 4-0 runs, split by a goal from sophomore Xavier Quinn. Junior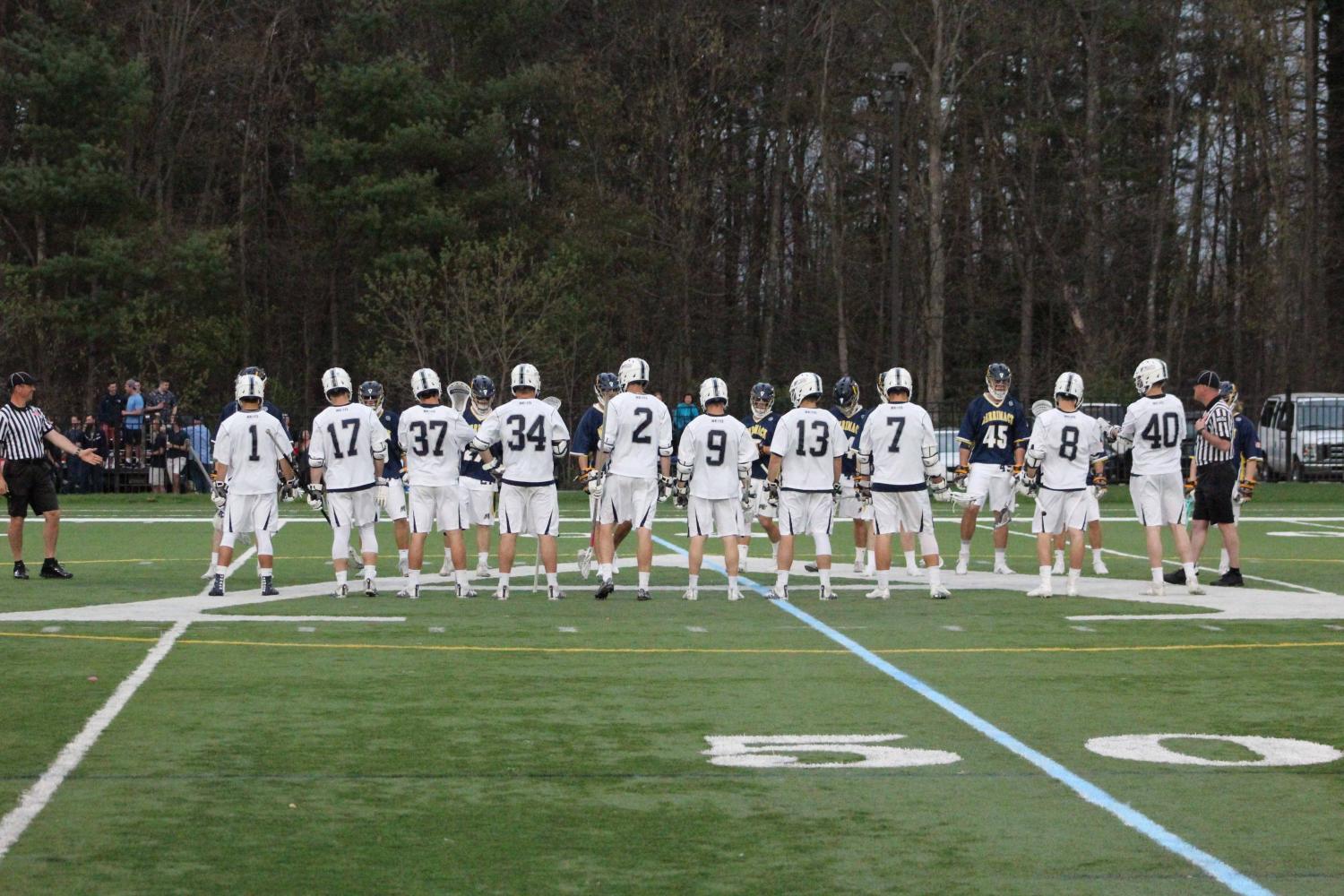 Ryan Hesseltine started the Hawks off with a goal in the first 20 seconds of the fourth off an assist from Olsen, but Merrimack would score the final four goals of the game to seal it, 20-6.
The Hawks are gearing up for a run in the Northeast 10 playoffs. Saint Anselm earned the fifth seed, finishing with a 7-4 record in conference play. They will head to Pleasantville, New York to face off with the #6 Setters of Pace University, who are the fourth seed, on Tuesday, May 2nd. The Hawks battled against Pace on Apr. 1, falling to them 11-8.
Saint Anselm will certainly look to continue their success from the regular season. Strong play from senior captains Pacitti and Olsen throughout the season lead the Hawks to an 8-4 record. Olsen led the team with 40 points in the regular season, netting 25 goals.
Sophomores Patrick Sweeney and Anthony Busconi both had breakout years, with Sweeney scoring a team high of 30 goals, and Busconi tallying 20 goals and 15 assists. McCormack dominated face-offs throughout the season, winning 144.
Unfortunately, the Hawks fell to Pace in a heartbreaking overtime loss. A 15 yard snipe ended the game with a score of 12-11. The Hawks look to reconvene and strike hard next season.