Athlete Profile: Jordan Cook '21 is a cross country workhorse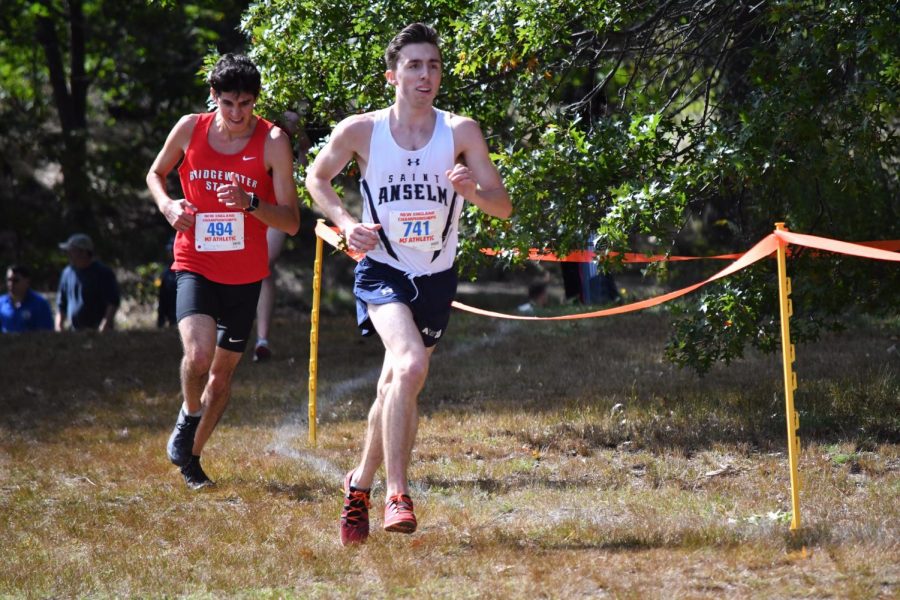 Brodie Deshaies, Crier staff
October 15, 2018
For Jordan Cook, cross country is more than a sport. It is a chance to prove himself and redeem himself.
Cook was born and raised in Biddeford, Maine. A graduate of Biddeford High School, he has been competing as a cross country runner since eighth grade. Currently a sophomore at Saint Anselm College, Cook majors in both politics and history. Saint Anselm's Politics program is a major reason why he chose to attend school here. During an interview, he explained that the New Hampshire Institute of Politics provides great opportunities to forge relationships with politicians. He also said that "connections are important things in politics."
While Saint Anselm's Politics program brought Cook here, what inspired him to run here was his desire to redeem his career. "[The] main thing that made me want to run in college is that I did it in high school and middle school, and I wasn't really satisfied with how I did," Cook said. Becoming a Hawk was Cook's chance to extend his career, and to prove to himself that he could be a better runner. Another major reason Cook decided to run in college was that of the passing of his late high school coach, Will Fulford. "I feel like [Coach Fulford] would want me to run in college, so I want to carry on running for him," explained Cook.
Over his seven-year career, Cook has had to battle through adversity. "My senior year I had a stress fracture in my left tibia, which wasn't very good," Cook told The Crier.
Unfortunately, this injury prevented Cook from running his entire senior season of high school cross country. Just after he recovered from his season-ending injury, Cook's coach Will Fulford passed away.
Cook describes the passing of his coach as "really rough because he was an important role model [in my life]."
It was also hard for him to adjust to running without his coach's guidance. This moment became a major turning point in Cook's career.
He has made it a goal to always run in memory of Coach Fulford. To a certain extent, his college career has been dedicated to his former coach.
Cook describes Coach Fulford as a "young bright coach, who really pushed me past my boundaries." Coach Fulford pushed him to his physical limits, and helped him become the great runner he is today.
Even with such an "intense" training schedule, Cook loves to run. His season so far has been "really good."
He has been "the healthiest throughout [his] career right now in college." Cook explains he enjoys running because it "keeps him fit" and " helps him make friends."
He also describes running as a "great stress reliever." Running collegiate cross country can be tough with such a large course load though.
"You travel and train more, with more intense workouts," Cook says comparing his college career to his high school career. However, Cook "likes the challenge" college cross country brings to his life.
He says it has taught him to coordinate his time, and "get a lot done fast." He hopes these skills can help him later in life.
He also enjoys spending quality time with his team. Cook describes his fellow Hawks as all being "practically brothers." He explains that everyone on his team "supports each other, and are there for each other, on the trails and off the trails."
Running as a Saint Anselm Hawk has helped him meet some of his closest friends in college too.
"The goal [for the team] is for us to all stay really close friends, and to push each other as a team," Cook says.
With goals like this, we can understand why Cook's team is so closely knit. Cook elaborated on the team's chemistry by saying: "We have an extra strong bond you don't find on a lot of teams, that's something I hope stays with us during college and after."