Kyrie Irving traded to Mavericks, joins Luca Doncic in elite backcourt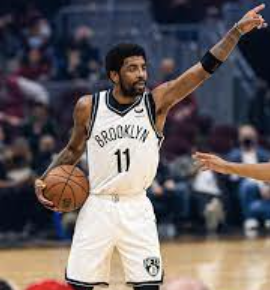 This week the NBA world was shocked to hear that Kyrie Irving was traded to the Dallas Mavericks in exchange for Spencer Dinwiddie, Dorian Finley-Smith, a 2027 Seventh round pick, an unprotected 2029 first round pick, and a 2029 second round pick.
This trade now pairs Irving with All-Star guard Luka Doncic. There are many people in the NBA world who contemplate whether or not this pairing is going to be successful. 
Kyrie Irving has been known for multiple issues around the NBA, like leaving the Boston Celtics, stomping on the Celtic logo, as well as the whole vaccination ordeal which prevented him from playing in numerous games.
This pairing could quickly become the best backcourt in the NBA. Doncic is an explosive, 6'7" guard with incredible playmaking capabilities. Doncic is having an MVP-caliber season, averaging an impressive 33.4 points per game, 8.9 rebounds per game, and 8.2 assists per game. Pairing this with the shifty handles of Irving could potentially wreak havoc on the Western Conference.
However, Irving holds the capability to cause many issues. There have been notable comments about Irving in the locker room, after fallouts with the Cavaliers, Celtics, and the Nets. 
Adding Irving into a Mavericks team that has had enough success to be the sixth seed in the Western Conference could potentially be amazing or terrible. Kyrie could either elevate the roster to the next level, or merely become a headcase.
This year Irving averages 27.1 points per game, with 5.1 rebounds, and 5.3 assists. He is shooting just under his average career numbers from the field, meaning that he is not out of his prime just yet. However, his career could plateau very quickly. Irving is a solid offensive and defensive player, the issue is he is well known as a conspiracy theorist and anti-Semetist who is just overall considered to be an issue. 
In my opinion as a Celtics fan, Kyrie is not worth the risk. Irving brings havoc and headaches to nearly every team he plays for with his antics. While he is a solid basketball player, at this rate in his career he makes nearly no sense to give up serious value for.
However, the Mavericks seemingly gave up very little value, although Dinwiddie is a solid player. Trading distant NBA draft picks is not much of a loss for the Mavs. In my personal opinion, trading 2029 picks is pointless. They mean that the Nets will see no return until 2029 at the earliest.
This trade seems to me like a win for the Mavericks. If Kyrie plays, the Mavericks could actually make a deep run in a star studded Western Conference. Kyrie could allow the Mavericks to actually compete and win a playoff series against teams that on paper are much better than them.
It's impossible to deny the fact that Kyrie has a huge upside, however you have to see the downside when you look at his value. At the end of the day it comes down to personal preference. Mark Cuban has shown himself to believe in Kyrie, but as a Celtics fan I never can consciously support his antics. However, it is all personal preference. What do you think?