Men's golf wins the Golden Knight Invitational in Orlando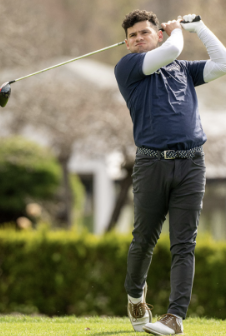 The Hawks men's golf team was off to a shaky start this fall, although they came into the spring with a new mindset. They knew that they needed to challenge themselves and work hard, in hopes of making a push for the playoffs later this spring. 
Senior team member, Drew Semons, said that "the team knew that we needed a win this spring if not more, to have a chance at advancing to the NCAA regionals." He credited the team for the hard work and dedication that they put in throughout the year. 
This spring the Hawks took a trip down south to Orlando, Florida where they competed in the Golden Knight Invitational. 
On day one, the Hawks scored 15-over par, putting them at a team score of 303. Sophomore Michael Papamechail landed 7th on the leaderboard as he finished just 2 over 74. Papamechail shot 14 pars, one birdie, and three bogeys during his round. 
Senior Drew Semons placed 8th on the leaderboard just one point behind Papamechail after Semons shot a 3 over 75. 
On day two, the Hawks kept it rolling. They erased an 11-shot deficit to push them to the number one spot as a team and clinched their first win since 2018. The team shot a total score of 288, which put them at even par. 
Senior Lucas Dascoli led all the athletes on the second day of competition by shooting a three-under 69, a career-best for Dascoli. Dascoli also finished the tournament in third place for individuals. 
Semons maintained his spot on the leaderboard as he moved up to 7th place after shooting a one-over 73 on Tuesday. 
Semons shared his emotion about that win and explained how much it meant to the team and the program as well. "Getting that win was a feeling like no other. Especially having never got one in my 4 years here it was a bit of an emotional rollercoaster as we weren't sure if we were going to win because it was coming down to the wire. When we finally found out that we got the win we all hugged each other and celebrated something that we deserved for a long time coming."
Overall, Semons holds a scoring average of 74.3, which is the best on the team. Although, he explains that everyone on the team has made a difference. "Everyone on the team's scoring averages can be attributed to the hard work that gets put in." 
Semons plays an important role on this team, not only on the course but as a leader too. He has played a crucial role on the team since his freshman year, as well as being a role model in the classroom. He has consistently been a leader for his new teammates that enter the program. 
"Being a senior leaves me with an important role to fulfill. Having brought in a younger crowd this year, it was important to make them feel welcome. I enjoy being a leader and take pride in being a captain as I have had good role models in the past that have helped guide me. It's much more important than many people think."
With Semons' leadership alongside the dedication that the Hawks golf team has, their spring season is looking up. With NCAA regionals just ahead, the team is looking for some crucial scores as they continue on this uphill slope!