From Spain to Australia: Anselmians reflect on semesters abroad
This spring, 47 Saint Anselm College students decided to take their studies off campus; 21 of those students spent the semester studying in Orvieto, Italy and the other 26 students were scattered over the Dominican Republic, Ireland, Norway, Spain, Italy, the United Kingdom, France, Morocco, Peru, Australia, and New Zealand.
Saint Anselm College is very proud of its "Semester in Italy" program, because it is a slightly cheaper option for students who wish to study abroad and receive core credits.  English major Jessica Vaillancourt '18, Spanish and social work major Caroline Ireland '19, and English and international relations major Abigail Nolan '19 are three of the 21 students who took advantage of this study abroad option.
When asked about her favorite part of being abroad, Vaillancourt says, "Being immersed in a different culture. This allows you to experience so many new aspects of daily life that include a new cuisine, a foreign language, fashion, and new friends from all over the world."
Ireland encountered quite a bit of self-growth during her four months away from home, saying, "I absolutely love the freedom and independence that I have gained since being abroad. This is also a great time for self-reflection and time to really contemplate where I'm going and what my goals are. My favorite thing about being in Italy is that I can get gelato everyday (sometimes 2x a day!) and I love how quaint and comforting Orvieto is. I can get to most places on foot. It is so relaxed in Italy and I feel so at peace."
"Studying abroad is like living a dream, and that's my favorite thing about it. Almost every day I experience something that makes me realize how beautiful and exciting life can be when you step outside your comfort zone and explore what the world has to offer. I've loved my time in Orvieto so much that after the program ends, I have decided to extend my abroad experience by traveling throughout Ireland for a month," says Nolan of her trip.
Business major Megan Bischoff '19 is currently in Madrid, Spain earning class credit.  She says, "I chose to come to Madrid, because I grew up fluent in Spanish and wanted to see if I could regain some of my skills. I thought about going to New Zealand but realized I wanted to be visit to other countries and cultures while abroad and so I thought Europe would be better. I was also considering going to Barcelona but then realized I would not be learning Spanish, I would be learning Catalan and that was not what I wanted."
Psychology major Ashley Robichaud '18 is one of the students furthest away from the Hilltop studying in Australia.  "I have always known I wanted to go to Australia; it has been number one on my list of places to travel since I was little. My program made the application process easy to manage, it was simply a matter of staying on top of paperwork and course approvals," she says.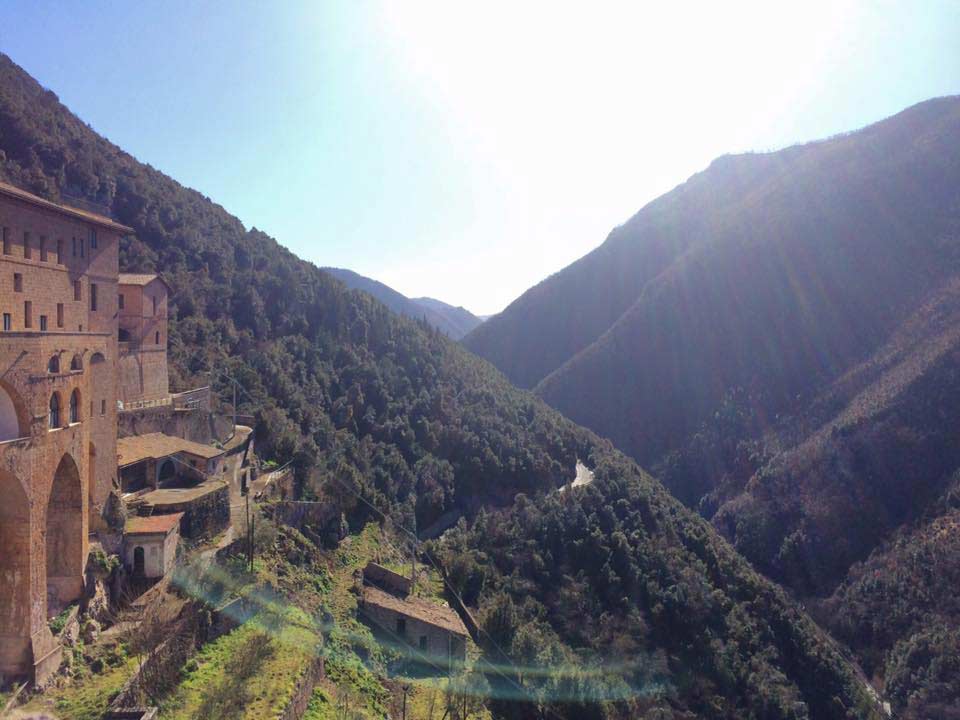 Studying abroad forces people out of their comfort zones and with that comes great rewards, but it is not always easy.
"Being away from my daily routines, my family, and my friends from home [has been hard]. But the good thing is, I was able to make friends and create a new daily routine while abroad," says Vaillancourt.  "I have never done traveling on trains and planes without my family, so I had a lot of firsts while being in Italy. You learn really quickly how to use the rail system, find budget flights, and rent Air BnBs from hosts who often cannot even speak English! I also never had roommates before, so going from living alone to living with four other girls was an adjustment, but they became some of my best friends."
"If I am being honest focusing on school work is rather difficult, because all I want to do is explore because I know my time here is limited," Ireland admitted.  "I did not plan to stay in Orvieto for Easter, but it ended up being an incredibly relaxing weekend spent with friends. I originally was bummed I wasn't going to a different country but in the end it was awesome to see how the people here celebrate Easter."
Going from New England to Spain definitely came with some surprises for Bischoff. "Culture shock. It doesn't just happen right when you get here; it is a constant roller coaster that can be pretty difficult," she explains. "I'm in a homestay, which isn't necessarily for better or worse, there's lots of pros and cons to it. However it does add to the culture shock and homesickness, you're just constantly out of your comfort zone."
Robichaud admits, "Homesickness is definitely a thing, however it has not been too bad to manage since there is always so much to see and do and little time to dwell on missing home. It has been hard being away from loved ones for so long, but Skype and FaceTime have really helped make it easier."
However, she is experiencing as much as she can while abroad, from skydiving in Byron Bay to exploring the Outback, to cage diving with sharks.  "My time abroad has been defined by me stepping out of my comfort zone. I never thought I would skydive or be able to see so many places. I also never imagined I'd willingly go on a trip to go cage diving with great white sharks…I've jumped at the chance to go on any new adventures that present themselves, and I'm continually surprising myself with how far out of my comfort zone I am willing to go."
Everyone has their own, personal reason for choosing to leave home for a semester and study abroad, but they all walk away with amazing memories and a sense of accomplishment for being able to live in a foreign country alone.