Dr. Carolyn Woo Named 2017 Commencement Speaker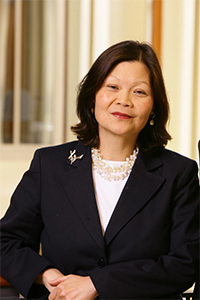 President Steven DiSalvo announced in an email on April 3 that Dr. Carolyn Y. Woo will deliver the 2017 Commencement Address at Saint Anselm. The college will also present Most Reverend Robert Barron and Sister Thomas Welder, O.S.B., along with Dr. Woo, with honorary degrees for their achievements in their fields. The ceremony will take place on Saturday, May 20 at 2 p.m. on the quad in front of Alumni Hall.
Dr. Woo served as the President and CEO of Catholic Relief Service, the official international humanitarian agency of the Catholic community in the United States, from 2012 to 2016. Woo also served as the Board of Directors of the CRS from 2004 to 2010. In an interview, Dr. DiSalvo said, "Carolyn Woo received overwhelming support to be approached as commencement speaker.  I had the opportunity to hear about her work at Catholic Relief Services one year ago at the annual meeting of the Association of Catholic Colleges and Universities".
Before working at CRS, she served as Dean of the Mendoza College of Business at the University of Notre Dame from 1997 to 2011. Dr. Woo immigrated to the United States from Hong Kong to attend Purdue University. There, she earned her bachelor's master's and doctorate degrees and eventually became the Associate Executive Vice President for academic affairs at the University.
Woo has accomplished extensive achievements throughout her career. Her work has been recognized by the Academy of Management, Change Magazine, the journal of the American Association for Higher Education, and by honorary alumna by Purdue University and University of Notre Dame. Woo has also received honorary doctorate degrees from several colleges including Providence College, Loyola University of Maryland, Manhattan College, Wake Forest University, and University of Notre Dame.
DiSalvo expresses his excitement that Dr. Woo has accepted the college's invitation to be the 2017 Commencement speaker. He states that "Her insights about the global impact of service and how it relates to our mission as a Catholic institution will be a compelling message for a school like Saint Anselm College".
DiSalvo also outlined the process for selecting Woo as the Commencement speaker, as well as for selecting the honorary degree recipients. The Vice President of Academic Affairs reviews and researches the names of potential candidates. Then, the list of names is reviewed by the Honors Committee of the Board of Trustees. The candidates who are approved in this step are then given to the president for selection. The president then approaches these individuals to evaluate their availability and willingness to participate in the commencement ceremony.
Bishop Robert Barron and Sister Thomas Welder were also chosen to receive honorary degrees at the ceremony. Bishop Barron was ordained Auxiliary Bishop of the Archdiocese of Los Angeles by Pope Francis in Sep. 2015. He founded Word on Fire Catholic Ministries, a non-profit organization that seeks to convert individuals to the Catholic faith. He also hosts CATHOLICISM, a highly regarded documentary on the Catholic religion. Bishop Barron has written several books, essays and articles on theology and the spiritual life, and is even a #1 bestseller on Amazon.
Bishop Barron is also a prominent social media personality. He is one of the most-followed Catholics on social media. His website WordOnFire.org and his Youtube channel have enabled him to spread his faith to others across the world. He has also appeared on news outlets including NBC, PBS, FOX News, CNN and EWTN.
During his academic career, Bishop Barron earned his Master's degree in Philosophy in 1982 at the Catholic University of America, and his doctorate degree in Sacred Theology from the Institut Catholique de Paris in 1992.
Sister Thomas Welder is a member of the Benedictine Sisters of Annunciation Monastery. Since 1963, she has served as teacher and administrator at the University of Mary, before becoming President from 19778 to 2009. Since then, she has served as president emerita, working for mission advancement. She also works as a director of CHI Saint Alexius Health, a trustee of Missouri Slope Areawide United Way, and as a board member of the Light of Christ Catholic Schools.
Sister Welder's academic career began when she attended the College of Saint Benedict, and graduated from the College of Saint Scholastica, Duluth. She earned a Master's degree in music from Northwestern University.
As a native of Bismarck, she has been honored with the Greater North Dakota Award in 2002, and with the Theodore Roosevelt Rough Rider Award in 2004. Sister Welder was also inducted into the Scandinavian-American Hall of Fame, received the United Way's Lifetime of Caring Award in 2007, and the Caritas Award in 2013.
DiSalvo states that these three honorary degree recipients "represent the values and ideals that are at the heart of Saint Anselm's mission — to educate leaders who make and find opportunities to engage in the service of diverse local, national and global fields and communities".