The Abbey Players deliver fantastical performance of Pippin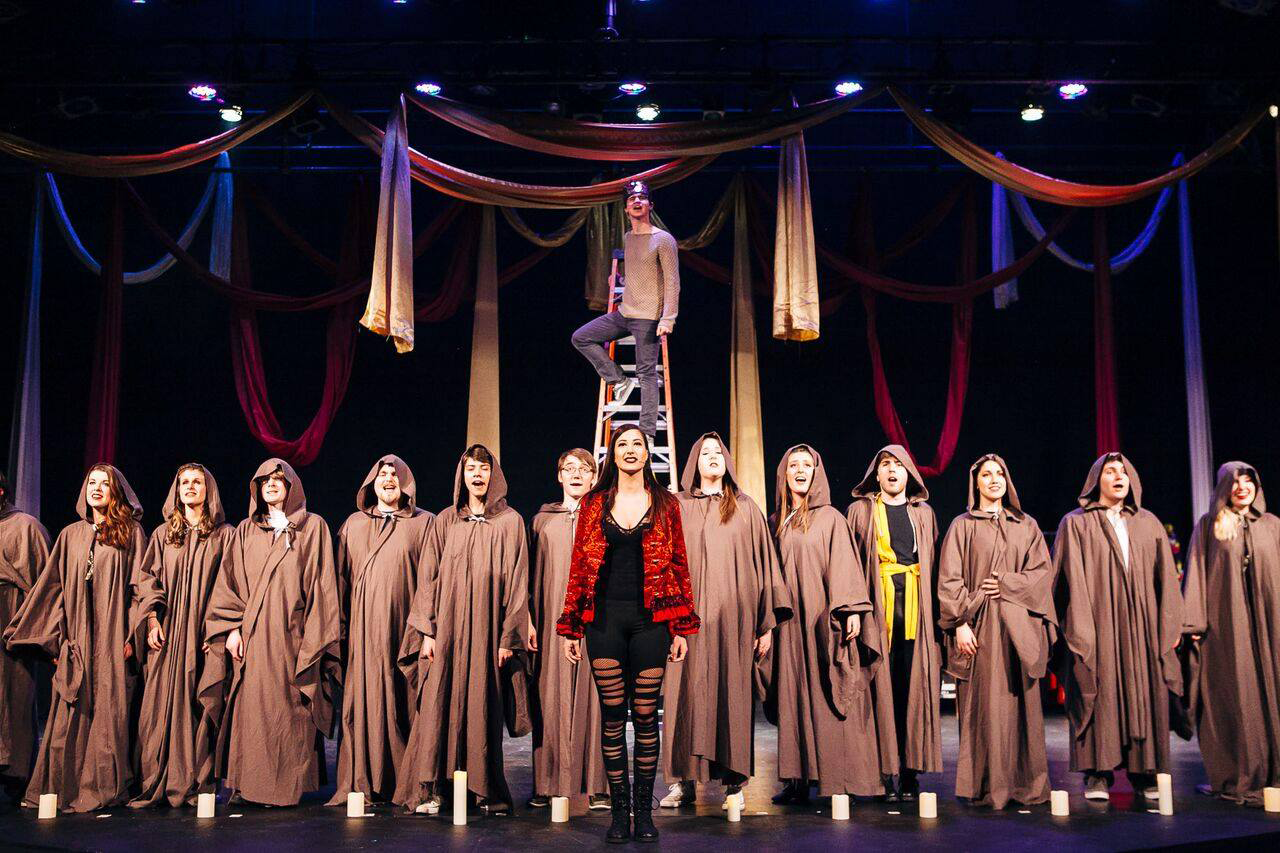 Hang on for a minute...we're trying to find some more stories you might like.
The Anselmian Abbey Players have taken the stage once more for an energetic and fantastical production of the musical Pippin, last performed at the Dana Center in 2006. The production was directed by Joel Mercier, choreographed by Katie Proulx, and the music was directed by Nick Pothier.
Pippin, a production performed by the Abbey Players from March 23 through April 7, is a 1972 musical originally directed and choreographed for Broadway by Bob Fosse and features music by the Oscar-winning composer and lyricist Stephen Schwartz. The powerful and show-stopping musical numbers are just as strong as the engrossingly mature, humorous, and dark storyline.
Pippin is a humorous allegorical tale about the search for purpose in life, and the danger of broken promises and excessively lofty expectations. The protagonist, a young prince named Pippin who is son of King Charlemagne the Great, goes through many different trials and experiences in order to satisfy his longing for true happiness.
Pippin initially seeks it out through military and glory, only to realize this ultimately does not provide him with purpose. Next, Pippin joins an acrobatic troupe of performers, led by the charismatic Leading Player, played by Stephanie Conti '18, who encourages him to lead a revolt against his own father. Killing his father and gaining the status of King, Pippin has still not achieved true happiness. Finally, gaining a family and humble home of his own provides him with the truest happiness and most meaning.
The humorous and fantastical elements of Pippin, as well as the deeper lessons that encompass it, have certainly been well-received by audiences. Psychology Professor Bert Ouellette states, "I cannot recommend this wonderful production more highly. Any lover of good theater should see this show. Anyone who appreciates young talent should see this show." Coffee shop supervisor Terry Newcomb was equally enthusiastic about the Abbey Players' performance, stating that he was "blown away."
While Pippin is often comedic and circus-centric, it also delivers significant messages about the common human internal struggle to discover and discern what is important in our lives and what is not. Freshman and Abbey Player Aidan Lewis '21 has taken the stage for his first major production as the leading role, Pippin.
Lewis says of his first time in an Abbey Players production, "It's just a great atmosphere. It's an opportunity for me to push myself to grow as an actor and also get to know the Abbey Players." Lewis also hopes the audience has benefited from the musical's values, which he explains: "Some things are going to make you happy for a little bit, and some things are going to make you happy for the long run. You're going to find it at some point, and that's what truly matters."