Fulbright Award recipient, Rebecca Jordan, to teach English in Germany after graduation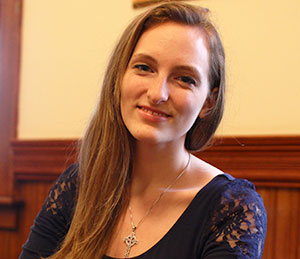 Rebecca Jordan, a senior English major, was awarded a Fulbright Award and will be teaching English in rural cities around Germany. Jordan is the first Saint Anselm College student to receive one of these awards.
Jordan was one of 395 applicants to the 2014-2015 Fulbright ETA program in Germany, in which only 140 grants were given. Jordan heard about the Fulbright Award during her sophomore year at a Fulbright meeting on campus held by Professor Asbury. Upon doing further research, Jordan determined that Fulbright "was fully funded and…that it was the right program for [her]."
Jordan came to Saint Anselm as an International Relations major, but later switched to English as she has always been fascinated by languages.
"I loved my English classes in high school and later, when I studied abroad in Germany during high school, I began to learn German and enjoy the learning process. Languages can be very difficult and often frustrating for people to learn, but for me the process is very rewarding and enjoyable," explains Jordan.
Jordan will be returning to Germany as a cultural ambassador for the United States and will be placed in a community outside of Germany's major cities. She will be able to help these cities which have very little access to English speakers or U.S. citizens with their English, as well as give presentations about U.S. culture, history, and society, in addition to various other tasks.
Jordan discovered her passion for languages as well as her love for Germany in high school. During her junior year of high school Jordan was awarded a political scholarship called Congress-Bundestag. Congress-Bundestag is a scholarship that allows high school students to visit the United States' Congress and the German Bundestag. This allows them to learn about the similarities and differences between the two countries' governments, as well as their cultures.
Jordan says this experience really improved her education, and she is "really excited to go back to Germany." Jordan is looking forward "having another chance to live in an amazing country and to enhance [her] German for graduate school."
Jordan aspires to be a professor one day and is considering attending graduate school in Germany.
When discussing her previous experience in Germany she said, "Germany as a whole was an extremely kind and courteous country; I've never met so many people who are optimistic and welcoming to strangers."